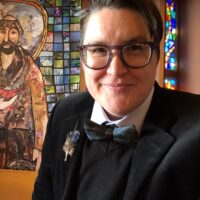 The Rev. Megan Rohrer, the first openly transgender Bishop, was elected to lead a synod that includes about 200 Lutheran congregations in Northern and Central California.
A pastor in California became the first openly transgender person to be elevated to the role of bishop in a major American Christian denomination when they were elected on Saturday to lead a synod in the Evangelical Lutheran Church in America.
The Rev. Megan Rohrer was elected to a six-year term as bishop of the Sierra Pacific synod, an assembly based in Sacramento that includes about 200 congregations across Northern and Central California and northern Nevada.
"I am so proud to be a Lutheran," Pastor Rohrer, 41, who will be installed as bishop on July 1, said in an email on Monday. "I pray that my election by the faithful people of the Sierra Pacific Synod will become a constant reminder that God's fabulous love is never limited by the opinions or legislation of others."
The Rev. Elizabeth A. Eaton, the presiding bishop of the Evangelical Lutheran Church in America, said in a statement on Monday that the Sierra Pacific Synod recognized Pastor Rohrer's gifts as a leader.
"When we say all are welcome, we mean all are welcome," Bishop Eaton said. "We believe that the Spirit has given each of us gifts in order to build up the body of Christ."
Pastor Rohrer, who uses the pronouns "they" and "them," currently serves as the pastor of Grace Evangelical Lutheran Church in San Francisco. They earned a Master of Divinity and completed postgraduate course work in Christian education at Pacific School of Religion in Berkeley, Calif., according to their profile on the church's website.
"I want to be the kind of bishop that moves whatever stumbling blocks might have been placed before you, who roots for you, and worships with you," Pastor Rohrer said before the vote on Saturday.
NYTimes.com, May 11.2021 by Jesus Jimenez
Click here to read the entire article.
The post U.S. Lutheran Church Elects Its First Openly Transgender Bishop appeared first on Time For Families.

Source: Time for Families