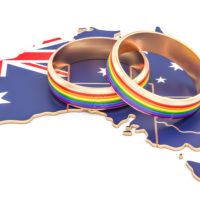 A solid majority of Australians voted in favor of same-sex marriage in a historic survey that, while not binding, paves the way for Parliament to legally recognize the unions of gay and lesbian couples.
Of 12.7 million Australians who took part in the government survey, 61.6 percent voted yes and 38.4 percent voted no, officials announced on Wednesday morning. Participation was high, with 79.5 percent of voting-age Australians sending back their postal ballots.
"The Australian people have spoken, and they have voted overwhelmingly 'yes' for marriage equality," said Prime Minister Malcolm Turnbull, who called the survey in a move described by advocates as a delay tactic devised to appease his party's far-right faction. "They voted 'yes' for fairness, they voted 'yes' for commitment, they voted 'yes' for love."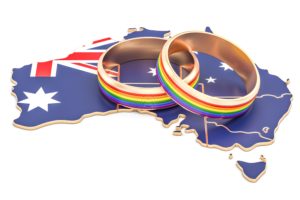 The high turnout and unequivocal result amounted to a rebuke for Australia's most conservative politicians, many of whom saw a majority of their constituents vote to support same-sex marriage despite their arguments against it.
Proponents of gay rights spent the day celebrating. They gathered in cities around the country to watch news broadcasts of the survey results. The largest crowd, at Prince Alfred Park in Sydney, broke into cheers, with hugs, dancing and tears, as soon as the news was announced.
"This is our proudest moment as gay and lesbian Australians," said Chris Lewis, 60, an artist from Sydney, who waved a large rainbow flag he bought in San Francisco about 30 years ago. "Finally I can be proud of my country."
But many Australians said it was also late in coming.
Annika Lowry, 42, who brought her 4-year-old daughter to the celebration, said the vote revealed a widening gap between Australia's political class and voters who have been demanding same-sex marriage legislation for years.
"It was not just about us," she said. "It's for our kids, so that they know equality is important."
Alex Greenwich, a state lawmaker from New South Wales and the co-chairman of Australian Marriage Equality, an advocacy group, said the vote "shows that Australians have truly come together in support of their gay and lesbian mates and have said that everybody should be able to have the freedom to marry."
The post Australians Say 'Yes' to Same-Sex Marriage, Clearing Path for Legalization appeared first on Time For Families.

Source: Time for Families