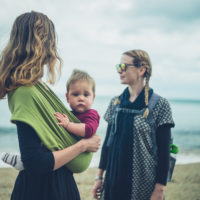 New studies say kids of gay parents are just as well-adjusted as those with a mom and dad. But Congress is moving to allow adoption agencies to bar LGBTQ families.
LGBTQ families made headlines twice this month, but for very different reasons.
Last week, a study found that from a mental health perspective, adult children with lesbian parents fared just as well as their peers with opposite-sex parents. This follows an Italian study released in May that found that children with same-sex parents were actually slightly better off psychologically than children with a mom and a dad.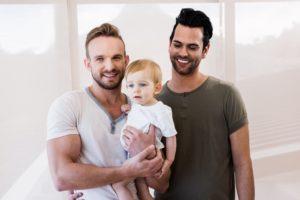 Earlier this month, however, Republican lawmakers dealt a blow to LGBTQ people seeking to become LGBTQ families. The House Appropriations Committee approved an amendment allowing foster care and adoption agencies that receive federal funding to refuse to work with same-sex couples on religious or moral grounds. Though the amendment has several steps to go before becoming federal law, 10 states already have a similar law in place.
The House amendment goes even further than current state-level laws. It would cut 15 percent of child welfare funding to states that explicitly prohibit agencies from excluding LGBTQ people.
Independent and private adoption agencies that do not receive federal funding are already allowed to deny LGBTQ people.
The studies of children with same-sex parents don't surprise advocates of LGBTQ families. Zach Wahls, who was born to a lesbian couple through artificial insemination and famously defended same-sex parents to the Iowa Legislature in 2011, said it was exciting to have studies to back up his experience.
"In our current climate, we're at risk of backsliding on this issue," Wahls told NBC News. "We need to be ready to contest that, and now we can do it in a scientific way."
Scientific as they may be, the studies are unlikely to move those who advocate for allowing agencies to exclude LGBTQ families, because the objections are faith-based and do not pertain only to lesbian, gay, bisexual and transgender people.
by Avichai Scher NBCNews.com, Jul.26.2018
Click here to read the entire article.
The post As evidence supporting LGBTQ families mounts, legal hurdles loom appeared first on Time For Families.

Source: Time for Families