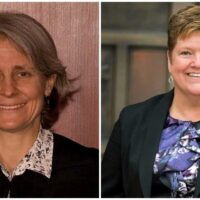 Judicial nominations announced Thursday by President Joe Biden include two lesbian nominees with long records of human rights work.
The first of the Biden lesbian nominees is Beth Robinson, the first out justice on the Vermont Supreme Court, is a nominee for the U.S. Court of Appeals for the Second Circuit. If confirmed by the Senate, she would be the first out lesbian to serve on any federal circuit court. The second of the Biden lesbian nominees is Charlotte Sweeney, a Denver-based attorney specializing in employee rights, is a nominee for the U.S. District Court for Colorado. She would be the first out federal judge in the state and the first woman from the LGBTQ+ community to be a federal district court judge in any state west of the Mississippi.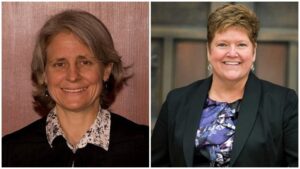 Дарить подарки в паре может быть очень весело. Вы знаете своего партнера: что он любит, какие ритуалы ему нравятся, какие мелкие повседневные неприятности вы могли бы решить с помощью продуманного подарка. Вы также знаете, насколько они оценят полученный от вас что подарить на Новый год 2022.Скорее всего, вы хотите подарить им что-то чудесное – независимо от вашего ценового диапазона. Все, что нужно большинству из нас, – это небольшое руководство и несколько отличных вариантов на выбор, поэтому мы составили список наших любимых идей подарков для подруг всех личностей, чтобы помочь вам сориентироваться, ниже. Посмотрите все 85 подарков для своей девушки:
В этот список входит спонсируемый продукт, предложенный Vuori. Он также соответствует нашим редакционным критериям с точки зрения качества и ценности. *
Robinson, as an attorney, was co-counsel in Baker v. State, the case that resulted in the 1999 Vermont Supreme Court ruling that the state must grant same-sex couples the same rights and benefits as opposite-sex ones. Because of that ruling, Vermont became the first state to adopt a civil union law. Then in 2009, the state legalized same-sex marriage, making it the fourth state with marriage equality and the first to enact it by legislation rather than a court ruling. Robinson advocated for that law as head of Vermont Freedom to Marry.
She was appointed to Vermont's high court by Gov. Peter Shumlin in 2011. Before that, she spent a year as counsel to the governor, following 18 years as an attorney with Langrock Sperry & Wool. Previously, she was an associate at Skadden, Arps, Slate, Meagher & Flom in Washington, D.C., and a law clerk for Judge David B. Sentelle on the U.S. Court of Appeals for the District of Columbia. She is a graduate of Dartmouth College and the University of Chicago Law School.
Sweeney is currently a partner at Sweeney & Bechtold, where she has practiced since 2008. Her law practice is devoted to representing individuals in employment law cases, dealing with discrimination, wrongful termination, and other issues. She was a partner with LaFond & Sweeney from 1999 to 2008 and LaFond & Bove from 1997 from 1999. She began her career as an associate with LaFond & Clausen in 1995 and was named a partner at the firm in 1998.
She is a graduate of California Lutheran University and University of Denver College of Law. She is a member of the Matthew Shepard Foundation's board of directors.
Biden also announced the nominations of two other judges: Mary Katherine Dimke for the U.S. District Court for the Eastern District of Washington and John P. Howard III for the District of Columbia Court of Appeals.
All the nominees are "extraordinarily qualified, experienced, and devoted to the rule of law and our Constitution," says a White House press release. "These choices also continue to fulfill the President's promise to ensure that the nation's courts reflect the diversity that is one of our greatest assets as a country — both in terms of personal and professional backgrounds."
Advocete.com by Trudy Ring, August 5, 2021
Click here to read the entire article.
The post Biden Announces Two Lesbian Nominees to Federal Judiciary appeared first on Time For Families.
Source: Time for Families