Planning for your dream family via surrogacy
There are many paths to parenthood, and the journey is often a lot more costly for parents who rely on surrogacy. 
For Jon, 41, the road to becoming a father to 5-month-old Theo involved a patchwork of financial moves: a career change, years of saving, employee benefits, family help and a grant for discounted services. Jon asked to use his first name only for privacy.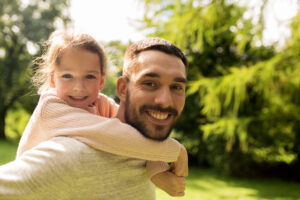 "I worked for a decade to make this family happen," the Atlanta-based single father said.
In total, the cost of surrogacy can vary widely, ranging from $150,000 to well over $200,000, depending on several factors, according to Rebecca Willman, chief community engagement and programs officer with Family Equality, a nonprofit dedicated to LGBTQ+ families. "If someone is quoting you a really low number, you may end up with a lot of additional costs," she said.
'People get really creative' to pay for surrogacy
Jon saved around $80,000 over 10 years before starting the egg donor process in 2019. "I assumed I'd pair up with someone and they'd help pay for surrogacy," he said. "But that never happened."
His company didn't initially offer fertility benefits for men. But a group of employees, mostly women, successfully pushed for expanded benefits for in vitro fertilization, adoption and gestational carriers. The enhanced coverage, which reimbursed employees for out-of-pocket expenses, reimbursed Jon $40,000 from his $170,000 total. His total included the cost of an egg donor, in vitro fertilization and gestational carrier.
"The tech sector and the financial services sector have been very proactive in offering fertility benefits," said Anthony Brown, an attorney and manager of client services at Circle Surrogacy. "And some of them have become creative so that they get around the technical definition of infertility," extending the benefit to same-sex couples, he added.
By Kate Dore, CNBC.com July 9, 2023
Click here to read the entire article.
The post Here's how one single father spent a decade planning for his dream family via surrogacy appeared first on Time For Families.

Source: Time for Families