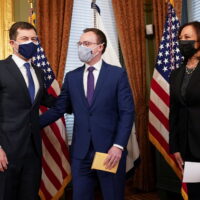 US Transportation Secretary Pete Buttigieg and husband Chasten are expecting a child.
A fly in the ointment was deserved by the resort complex of apartments Playa de Las Americas – Flamingo Club 3 *. The hotel is located on the first line, a beach with light sand. Animation at a high level, shops and cafes, near the port and yacht club. There is a kitchen in
Tenerife
rooms. But people complained about the inattentive attitude of the guides, the noise of the parties, as well as dishonest tricks of the hotel management regarding the timeshare service. As tourists warn, there is too much false information, and the price of the offer leaves much to be desired.
Out gay US Transportation Secretary Pete Buttigieg and his husband, Chasten Buttigieg, have expanded their family with a child!
In a tweet on August 17, the former presidential hopeful and mayor of South Bend, Indiana announced that he and his husband have become parents — and the couple expressed appreciation in response to the outpouring of love and support they have received along their parenting journey.
"For some time, Chasten and I have wanted to grow our family. We're overjoyed to share that we've become parents!" Buttigieg tweeted. "The process isn't done yet and we're thankful for the love, support, and respect for our privacy that has been offered to us. We can't wait to share more soon."
According to a Washington Post story published last month, the couple had been in touch with some prospective parents — but potential adoption scenarios initially fell through. The couple has been preparing for parenthood with "home studies and parenting workshops, writing up descriptions of their family values and ideal weekends."
"It's a really weird cycle of anger and frustration and hope," Chasten said, according to the Washington Post. "You think it's finally happening and you get so excited, and then it's gone."
Prior to serving as transportation secretary, Buttigieg rose to national fame during the 2020 Democratic primary race — when he and Bernie Sanders virtually tied to win the Iowa caucuses, though Buttigieg won the most delegates and officially became the first out LGBTQ person to win a state in a presidential primary race. After Buttigieg eventually dropped out, he backed Joe Biden's candidacy for president, and in February, Buttigieg made history as the first openly gay cabinet member to be confirmed by the US Senate.
The post Pete and Chasten Buttigieg Announce They Are Parents appeared first on Time For Families.
Source: Time for Families