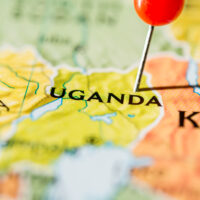 Uganda's President Signs Punitive Anti-Gay Bill Into Law
The president of Uganda signed a punitive anti-gay bill on Monday that includes the death penalty, enshrining into law an intensifying crackdown against L.G.B.T.Q. people in the conservative East African nation and dismissing widespread calls not to impose one of the world's most restrictive anti-gay measures.
The Uganda anti-gay law, which was introduced in Parliament in March, calls for life imprisonment for anyone who engages in gay sex. Anyone who tries to have same-sex relations could be liable for up to a decade in prison.
The Uganda anti-gay law also decrees the death penalty for anyone convicted of "aggravated homosexuality," a term defined as acts of same-sex relations with children or disabled people, those carried out under threat or while someone is unconscious. The offense of "attempted aggravated homosexuality" carries a sentence of up to 14 years.
The legislation is a major blow to efforts by the United Nations, Western governments and civil society groups that had implored the president, Yoweri Museveni, not to sign it.
Karine Jean-Pierre, the White House press secretary, has said the bill would "damage Uganda's international reputation."
But Mr. Museveni was unmoved, saying in a video released by the state broadcaster in April that the country had "rejected the pressure from the imperials," a reference to Western nations.
On Monday, the speaker of Uganda's Parliament, Anita Annet Among, first announced on Twitter that the president had signed the bill into law. "I thank my colleagues the Members of Parliament for withstanding all the pressure from bullies and doomsday conspiracy theorists in the interest of our country," she said.
The law, activists said, tramples the rights of L.G.B.T.Q. people and leaves them vulnerable to discrimination and violence. Homosexuality is already illegal in Uganda, but the new law calls for far more stringent punishment and broadens the list of offenses.
5.29.2023 – NYTimes.com By Abdi Latif Dahir
Click here to read the entire article.
The post Uganda's President Signs Punitive Anti-Gay Bill Into Law appeared first on Time For Families.

Source: Time for Families